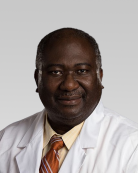 James K. Aikins Jr., MD, FACOG, FACS
Chief, Gynecologic Oncology
Associate Professor of OB/GYN and Reproductive Sciences
Program Director for the Gynecologic Oncology Fellowship Program at Rutgers Robert Wood Johnson Medical School
Dr. Aikins leads Rutgers Cancer Institute's multidisciplinary Gynecologic Oncology Program which offers advanced treatment options including minimally invasive surgical techniques, clinical trials, precision medicine, and immunotherapy.
With a special interest in global women's health issues, Aikins is the founder of International Healthcare Volunteers (IHCV), a non-profit organization whose mission is to provide sustainable programs and medical services to underserved women and their families living in Ghana, West Africa, and provide continuing medical education for health professionals, including students at Robert Wood Johnson Medical School.
Aikins' previous research includes fertility preservation in gynecologic cancers, Effects of sexual function following Surgeries for gynecologic Malignancies. He also conducts global health research in the area of cervical cancer screening in low-resource communities. He currently serves as a visiting professor at Cape Coast Teaching Hospital in the OB/GYN Department (University of Cape Coast School of Medical Sciences) in Cape Coast, Ghana, West Africa. 
Having received his undergraduate degree at the University of Pennsylvania and medical degree from the Medical College of Pennsylvania, Aikins completed a general surgery internship at St. Agnes Hospital in Baltimore and an obstetrics/gynecology residency at Robert Wood Johnson Medical School/Cooper University Hospital. He also completed gynecologic oncology fellowship at the Hospital of the University of Pennsylvania. He is a fellow of the American College of Obstetrics and Gynecology, American College of Surgeons, and the Ghana College of Physicians and Surgeons. He is also a member of numerous gynecologic oncology professional societies and committees in the United States and internationally. Aikins has published a variety of articles in peer reviewed journals as well as book chapters and presents regularly at regional, national and international meetings. He has been a Top Doctor in New Jersey for the Philadelphia Pennsylvania for the past ten years. 
Dr. Aikins sees patients at Rutgers Cancer Institute and Robert Wood Johnson University Hospital Hamilton.
Clinical Expertise
Fertility preservation in gynecologic cancers, management of Vulva, Vaginal, Cervical, Uterine, Tubal & Ovarian Cancers. Minimally invasive Surgeries (Robotics), Complex Gynecologic Surgeries and Clinical Trials