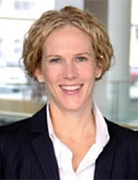 Kathleen Beebe, MD
Orthopedic Surgeon
University Hospital Newark
As an orthopedic surgeon at University Hospital Newark and an Associate Professor of Orthopedics at Rutgers New Jersey Medical School, I have dedicated my career to providing the highest quality of care to my patients with limb- and life-threatening conditions. For over a decade, I have worked hard to provide each patient with a comprehensive evaluation and full information about their disease and the suggested treatment options so that we can work as partners to conquer their disease.
Following my residency and internship at the University of Medicine and Dentistry of New Jersey, I completed a fellowship there in Musculoskeletal Oncology. I completed my medical school education at Columbia University, College of Physicians and Surgeons.
I am a member of the American Academy of Orthopaedic Surgeons, American College of Physicians, the Ruth Jackson Orthopaedic Society and Musculoskeletal Tumor Society.
Clinical Expertise
Children and adults with benign and malignant bone and soft tissue tumors of the extremities and pelvis