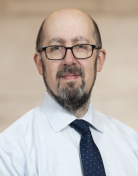 Matthew Matasar, MD
Chief, Division of Blood Disorders, Rutgers Cancer Institute
Hematologist/Oncologist
Professor, Rutgers Robert Wood Johnson Medical School
I'm thrilled to join Rutgers Cancer Institute of New Jersey and RWJBarnabas Health. The team of professionals here - nurses, nurse practitioners, pharmacists, technicians, social workers, geneticists, dietitians, and of course my fellow physicians - are deeply committed to the art and science of caring for people facing a diagnosis of cancer. I'm proud to be a member of this program, and fully recognize what a privilege it is to do what we do: Meet with people and their families and friends in difficult times, and care for them to restore them to good health.
Although a native Michigander (who's never lost my Midwestern sensibilities), I've been on the east coast for the last thirty years. Having graduated from Harvard College and then Harvard Medical School, I moved to New York to train in medicine at what was then Columbia-Presbyterian Medical Center. After completing my training in internal medicine, and staying on as a Chief Resident while completing a Master's degree at the Mailman School of Public Health, I joined Memorial Sloan Kettering Cancer Center to pursue advanced training in cancer medicine, and have been dedicated to caring for patients with lymphoma ever since.
Throughout my career, I have held a number of responsibilities in addition to caring for patients, including conducting clinical research to develop more effective and less toxic treatments as well as studying how best to care for survivors of lymphoma and its treatments. I've been fortunate to have had the opportunity to contribute in other ways as well, whether as a member of the board of the New Jersey chapter of the Leukemia and Lymphoma Society, or as a member of the American Society of Hematology's national Committee on Quality. 
Outside of work, I'm blessed with a very full life. My wife Maria is an incredible partner, and herself quite busy as an executive with ABC News. We have three incredible children, as well as a couple of dogs and a few cats thrown into the mix. I'm an avid chef, love photography, and deeply passionate about coffee.
Clinical Expertise
Lymphomas (both Hodgkin and non-Hodgkin), clinical trials, cancer survivorship