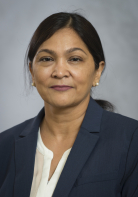 Meenakshi Goyal-Khemka, MD
Pediatric Hematologist/Oncologist
I am excited to return to New Jersey and join Rutgers Cancer Institute of New Jersey as a Pediatric Hematologist/Oncologist and the Rutgers Robert Wood Johnson Medical School as a Clinical Assistant Professor in Pediatrics. I treat patients at both Rutgers Cancer Institute in New Brunswick and Monmouth Medical Center in Long Branch providing comprehensive family-centered care with the most advanced treatment options including clinical trials, immunotherapy, and precision medicine
My interest in pediatric hematology/oncology began during my residency at SUNY Downstate Medical Center where I also completed my clinical fellowship training. I worked briefly at Brooklyn Hospital in New York and Cooper University Hospital in Camden before moving to Arizona. For the past 10 years I have worked at Phoenix Children's Hospital taking care of patients with acute leukemia, lymphomas, sickle cell disease and other blood disorders.
Acute leukemia in children today have very high cure rates but there is a small subset who still do not fare well. Fortunately, there are now many treatment options for this population including clinical trials. I educate all of my patients and families about these treatment options including access to clinical trials from the Children's Oncology Group, the world's largest organization devoted exclusively to childhood and adolescent cancer research, of which I am a member.
A cancer diagnosis is the most devastating moment in a patient and their family's life and I want to be their advocate while providing comprehensive and compassionate medical care. I focus on their quality of life not only during the initial diagnosis and treatment, but also after active treatment through survivorship. My mission is to provide family centered care for all of my patients
In addition to treating children with cancer I also have an interest in benign hematology particularly hemoglobinopathies. I was the Director of the Sickle Cell Program at Phoenix Children's Hospital where I provided quality patient care.  
I am also interested in medical education and have been involved in teaching medical students, residents and fellows since I completed my training.
Clinical Expertise
Acute leukemia and lymphomas, sickle cell disease, blood disorders, immunotherapy, precision medicine, and clinical trials.