Rutgers Cancer Institute of New Jersey research results in development of organoid prostate models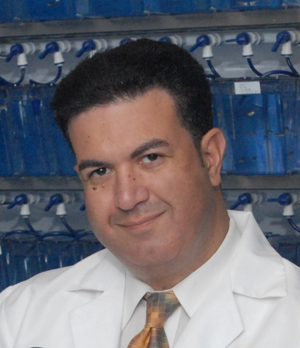 New Brunswick, N.J. – What if a prostate cancer patient could learn which anti-cancer treatments would work best for him without having to swallow a single pill or endure a single intravenous line or injection? Research from Rutgers Cancer Institute of New Jersey involving the development of human organoid prostate models could have implications for how future therapy is guided for some of this population, say investigators. At focus is the development of prostate stem cell-derived organoids, the size of a pinhead, that were developed from prostate cancer biopsy and resected tissue taken from patients with early-stage and advanced prostate cancer. The findings are being presented at the Annual Meeting of the American Association for Cancer Research (AACR) being held in Philadelphia this week.
Next generation androgen deprivation therapy, radiation and chemotherapy have been clinically effective against advanced prostate cancer. But despite short-term responses, disease recurrence typically occurs. A majority of these recurring tumors are found to have drug resistance that can be identified during initial therapy if primary tumor cells from individual patients can be maintained and their features examined. Cancer Institute of New Jersey investigators wanted to develop a more suitable model in which to better understand how each patient's cancer cells respond to therapy and identify early markers of drug resistance.    
Utilizing patient-derived cells from primary prostatectomy tissue, researchers used a two-stage protocol that incorporated developmental epithelial and mesenchymal signals, stem-like cells and other growth requirements in three-dimensional (3D) cultures to foster development of prostate organoids. The team successfully developed 17 prostate organoids out of 19 primary prostatectomy tissues.  Tissue elements also were used to maintain normal regeneration and demonstrate self-renewal properties of non-cancerous enlargement of the prostate in these 3D cultures.
Preliminary data show the organoid models developed in the laboratory have the same tissue and cell make-up of human prostates and possess such functioning apsects as androgen receptor signaling and secretion of the prostate specific antigen (PSA) protein.  It was also revealed that when prostate organoids were exposed to the same androgen deprivation therapy that patients have, cells from the prostate organoids maintained genetic and growth rate features of the primary prostate from where tissue was originally secured and markers of therapy resistance could be detected.
"When it comes to better understanding therapy resistance in prostate cancer, animal models and human prostate cancer cell lines by themselves are limiting. By using the patient's own tissue in 3D cultures, we are able to develop a new laboratory platform for drug testing that maintains the genetic features of the primary prostate, thus enabling scientists to better identify biomarkers of drug resistance or hormonal resistance," notes senior author of the work, Hatem Sabaawy, MD, PhD, resident member at the Cancer Institute and assistant professor of medicine at Rutgers Robert Wood Johnson Medical School. "We are encouraged that the prostate organoid model can be used with precision medicine and co-clinical approaches to help guide future clinical trials."
Along with Dr. Sabaawy, authors include Monica Bartucci, Michele Patriizii, Eric Huselid, Shamila Yussuf, Nitu Bansal, Kathleen Flaherty, Denis Tolkunov and Hua Zhong, all Cancer Institute; and Mark N. Stein, Joseph Bertino, Robert DiPaola, and Isaac Kim, all Cancer Institute and Robert Wood Johnson Medical School.
The work was supported by the Rutgers Cancer Institute of New Jersey Cancer Center Support Grant (P30CA072720) from the National Cancer Institute.
About Rutgers Cancer Institute of New Jersey
Rutgers Cancer Institute of New Jersey (www.cinj.org) is the state's first and only National Cancer Institute-designated Comprehensive Cancer Center. As part of Rutgers, The State University of New Jersey, the Cancer Institute of New Jersey is dedicated to improving the detection, treatment and care of patients with cancer, and to serving as an education resource for cancer prevention. Physician-scientists at the Cancer Institute engage in translational research, transforming their laboratory discoveries into clinical practice, quite literally bringing research to life.  To make a tax-deductible gift to support the Cancer Institute of New Jersey, call 848-932-3637 or visit www.cinj.org/giving. Follow us on Facebook at www.facebook.com/TheCINJ.
The Cancer Institute of New Jersey Network is comprised of hospitals throughout the state and provides the highest quality cancer care and rapid dissemination of important discoveries into the community. Flagship Hospital: Robert Wood Johnson University Hospital. System Partner: Meridian Health (Jersey Shore University Medical Center, Ocean Medical Center, Riverview Medical Center, Southern Ocean Medical Center, and Bayshore Community Hospital). Major Clinical Research Affiliate Hospitals: Carol G. Simon Cancer Center at Morristown Medical Center and Carol G. Simon Cancer Center at Overlook Medical Center. Affiliate Hospitals: JFK Medical Center, Robert Wood Johnson University Hospital Hamilton (CINJ Hamilton), and Robert Wood Johnson University Hospital Somerset.