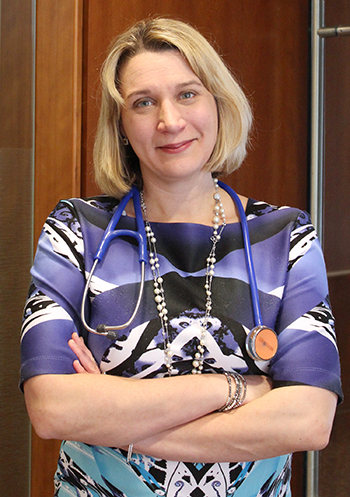 As scientists further explore using immunotherapy to battle cancer, they're seeing advancement with certain drugs that harness the body's own immune defenses to fight the disease.  T cells are part of the army of white blood cells that help the body ward off infection naturally. In binding with a protein known as PD-L1 (programmed death ligand-1), a cell receptor known as PD-1 (programmed death-1) can shut down T cells and their ability to kill cancer cells. Research is showing new therapies that target PD-1 and PD-L1 block that action are having positive results in treating advanced melanoma, and more recently, small cell lung cancer (SCLC), one of the most aggressive known types of lung cancer.
Janice M. Mehnert, MD, a leader in the Phase I and Developmental Therapeutics Program at Rutgers Cancer Institute of New Jersey, is the senior author of research highlighting the latest immunotherapy advances in SCLC with the drug pembrolizumab.  The work is being presented at the American Society of Clinical Oncology (ASCO) Annual Meeting being held later this month in Chicago. Dr. Mehnert, who is also a medical oncologist in the Melanoma and Soft Tissue Oncology Program at the Cancer Institute, shares more about the study:
Q: How did you and your colleagues come to focus on SCLC?
A: Pembrolizumab has shown anti-tumor activity in numerous advanced malignancies, including melanoma and non-small cell lung cancer. This clinical trial in particular focused on the activity of pembrolizumab in tumors with high PD-L1 expression, which may predict response to pembrolizumab. Because therapy options for SCLC patients being treated with platinum-based chemotherapy are limited when their disease progresses, we and our co-investigators from selected sites across the world wanted to see if pembrolizumab would be a safe and effective alternative for this population.
Q:  How was the study conducted?
A: At the time our abstract was submitted,  135 patients with SCLC from multiple international sites had been screened. Of that number, 37 patients had tumors with a large presence of the PD-L1 protein. The investigators enrolled 16 of those patients, who were previously treated with platinum-based therapy, into the trial from March 2014 until January of this year.  Participants received 10 mg of pembrolizumab every two weeks until confirmed progression or unacceptable toxicity.  Safety, tolerability and response were assessed every eight weeks for the first six months and every 12 weeks thereafter.
Q:  What did you find?
A: Of the evaluable patients, four of 16 had a partial response at the time we reported our results, with five others not yet assessed, one patient with stable disease and six with progressive disease. This yields a disease control rate of 31percent. It is important to point out that these responses not only occur, but are also durable, with all responders on treatment for 16 or more weeks with ongoing response. These results are meaningful in this patient population in which chemotherapy is frequently ineffective or works only transiently. The final updated results will be announced at the annual meeting. There were no treatment-related deaths or therapy discontinuations due to drug-related adverse effects. Overall, pembrolizumab is generally well tolerated in this population.
Q:  What does this new class of drugs mean for the future of cancer treatment?
A: Immunotherapies have been advancing for the past few years, but recent research shows that immunotherapy drugs that specifically target PD-1 and PD-L1 are providing extended benefit to patients. In addition, the side effect profile is quite manageable which may ultimately improve patient quality of life as well. The future will focus on identifying precisely which patients will respond best to this approach through genomic analysis of their tumors in a personalized medicine approach.
Other authors on the work include: Patrick A. Ott, Dana-Farber Cancer Institute; Elena Elez, Vall d'Hebron Institute of Oncology (Spain); Sandrine Hiret, ICO René Gaudcheau (France); Dong-Wan Kim, Seoul National University Hospital (Republic of Korea); Rebecca A. Moss, Rutgers Cancer Institute of New Jersey; and Tammy Winser, Sammy Yuan, Jonathan Cheng and Bilal Piperdi, all Merck & Co., Inc.