Story by Mary Ann Littell • Portraits by John O'Boyle       View the complete magazine | Subscribe to Cancer Connection
As Ling Jin navigates her way through treatment for a rare and aggressive form of T-cell lymphoma, her husband Joey Cai is by her side. For the past several months she has been in and out of the hospital, undergoing high-dose chemotherapy and radiation treatments in preparation for a stem cell transplant—essential, lifesaving treatment that's been disrupted by the COVID-19 pandemic. 
Facing a lethal cancer, many would be so focused on finding the right physicians, getting through treatment, and coping with waves of fear and anxiety, that their old world would cease to exist. But not this couple. In spite of all they face, they are able to look outside themselves, recognize a critical need, and take action. In the early days and weeks of the pandemic, there was a serious shortage of personal protective equipment (PPE) for health care workers. So they spearheaded an effort to donate PPE to Rutgers Cancer Institute of New Jersey and Robert Wood Johnson University Hospital (RWJUH), an RWJBarnabas Health facility. It was an extraordinary gesture. 
"It is our way of giving back to the medical staff at Rutgers Cancer Institute and the hospital who are taking such good care of my wife," says Cai. 
Their story begins in the summer of 2019, he explains, speaking for his 43-year-old wife while she continues to undergo treatment. The couple, longtime Princeton, New Jersey residents, have two daughters, ages 11 and 14. The family has always enjoyed an active lifestyle of skiing, playing tennis and other activities. Jin teaches violin; Cai recently started his own business, with frequent travel to China. 
"Ling had never been sick, never even been in the hospital except to have our daughters," he says. "But suddenly she began having unusual health issues: rash-like bumps on her armpits, her thighs, and other areas of her body. At first we thought they were insect bites, but they got much worse." 
A dermatologist prescribed antibiotics, but they didn't help. Jin started having nightly fevers, as high as 104 or 105. "By September she was so exhausted that she spent most of her time in bed," recalls Cai. After several more rounds of antibiotics, visits to their primary care physician, and even the local hospital's Emergency Department, no one could make a proper diagnosis. Jin was admitted to her local hospital, where physicians biopsied a lesion on her leg. 
"They sent her home with steroids, which helped," says Cai. "Her fever came down, and we thought we were in the clear." But two weeks later, they were stunned to learn the biopsy results. Jin had primary cutaneous gamma-delta T-cell lymphoma, a rare and highly aggressive lymphoma that typically warrants multi-agent chemotherapy followed by consolidation with allogeneic stem cell transplantation. 
"Doing a lot of research, we learned just how rare and serious this lymphoma is," Cai explains. 
The couple saw a community oncologist who told them he could not treat her complex disease. He advised them to go to Rutgers Cancer Institute, citing its expertise in treating difficult and intractable cancers. 
They reached out to a longtime friend, Ning Jeff Yue, PhD, (left) professor, executive vice chair and chief of physics in the Department of Radiation Oncology at Rutgers Robert Wood Johnson Medical School (RWJMS). He recommended Andrew Evens, DO, MSc, FACP, (below, right) associate director of clinical services and director of the Lymphoma Program at Rutgers Cancer Institute; medical director of the oncology service line, RWJBarnabas Health; and a professor of medicine at RWJMS. Dr. Evens' clinical expertise and research interests are focused on lymphoma, and he's part of a multidisciplinary team of experts who work together to provide the most advanced, cutting edge, and compassionate care. 
Jin saw Evens in late fall. "That first visit was overwhelming," admits Cai. "Dr. Evens is knowledgeable, professional and kind. He's also very straightforward – comes right to the point without sugar-coating. He told us this cancer is so rare that there is little data on how to treat it. Because it's so aggressive, he'd have to treat it aggressively. The only treatment that offered the possibility of a cure is a stem cell transplant. When we left his office, our minds were spinning." 
Allogeneic stem cell transplantation, sometimes referred to as bone marrow transplant, is a procedure in which a patient receives healthy stem cells from another person via detailed DNA matching to replace damaged stem cells and to also fight the lymphoma itself. "This basically substitutes another person's immune system for your own," says Cai. "We knew it would be very hard on Ling. There's a risk of complications and dangerous side effects. But it was our only hope." 
They considered getting a second opinion, but ultimately decided against it. "Dr. Evens was very confident, and that gave us great confidence in him and his team," explains Cai. "Also, we liked the idea of getting high-quality and cutting edge care close to home."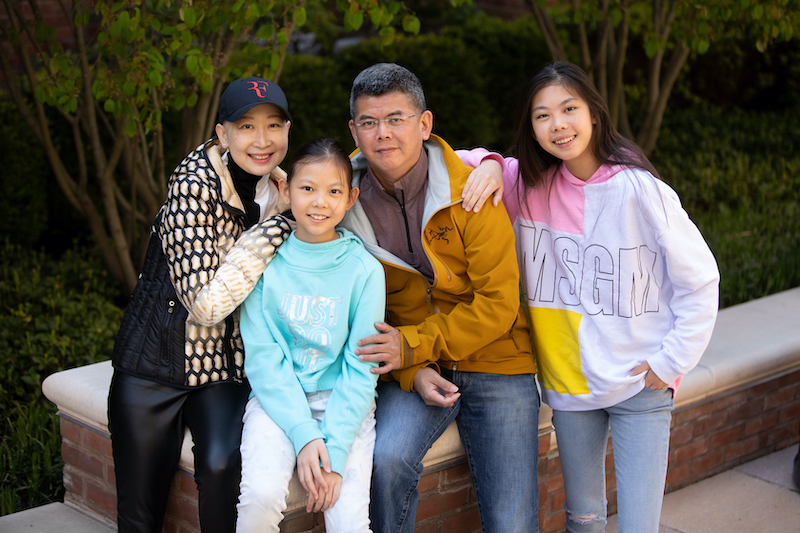 Ling Jin and family
Jin first had several rounds of chemotherapy to prepare her body for transplantation. This phase of treatment is so intensive that it required her to spend a week in the hospital for each cycle of chemotherapy. "Dr. Evens anticipated that Ling might be ready for the transplant after four cycles," explains Cai. "So we were hoping it might be sometime in February." There was a brief set back when lymphoma was discovered behind her eye. However, brief and highly targeted radiation therapy performed by Rutgers Cancer Institute radiation oncologist Rahul Parikh, MD, (right) medical director, Laurie Proton Therapy Center at RWJUH, resulted in resolution of this problem. 
Bone marrow transplant coordinator Mary Kate McGrath, MSN, RN, APN, BMTCN, OCN, searched databases for a donor whose genetic type was compatible with Jin's. Because Jin is Asian-American, there was a likelihood that the closest matches would come from Asia. In early January four potential donors were found, all from the greater China area. "But at that moment, the COVID-19 pandemic hit China," says Cai. "Donors from that area were immediately removed from the database." 
After a few weeks of searching, another donor was located in the U.S. "Everything seemed to be coming together," says Cai. "But now COVID-19 hit the U.S. That was very unlucky. It felt like we just could not escape this virus! Many hospital procedures were put on hold, and the collecting date for the stem cell donation was postponed several times." 
As Jin continued her cycles of chemotherapy, Cai spent many days at the hospital, always wearing a mask. He'd returned from a recent trip to China with a "bug" that turned out to be the flu. "Wearing a mask wasn't so strange to me," he says. "Many people in Asia wear them. But now I was having difficulty finding them. In this pandemic, health care workers are supposed to wear masks too, but unfortunately there were not enough to go around." 
The hospital reception desk had been putting out boxes of masks for visitors, but this practice stopped. "The receptionist said they'd run out of masks," Cai adds. "Clearly, this was a serious situation."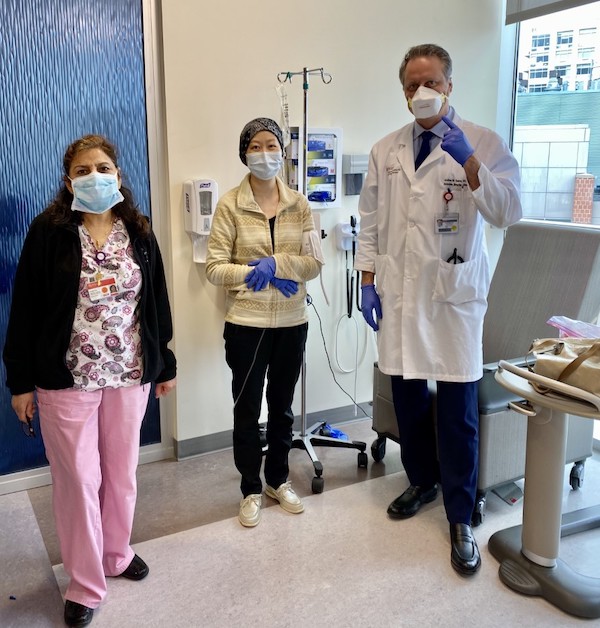 Ling Jin (second from right) with Andrew M. Evens, DO, MSc, FACP (far right) and other members of her health care team with masks donated by Jin and her husband.
Concerned for the safety of his wife, other patients, and the health care team, Cai brainstormed with Ning Jeff Yue and another friend at Rutgers Business School, Xiaodong Lin, PhD. After much discussion the three decided to donate masks to the hospital. Through Cai's connections in the Chinese business community, he located a medical products manufacturer. "We ordered 5,000 surgical masks and 1,000 KN95 masks, the equivalent of N95 masks in the U.S.," says Joey. "The three of us chipped in for the masks and had them shipped to our homes. When we brought the boxes of masks to the hospital, the nurses and hospital staff were so surprised and happy." 
He chuckles when recounting their feedback: "They said, 'Thank you, we appreciate it. We really need these. You think you can get some more?'" The three continued this effort, making a second donation of 10,000 surgical masks in early June. "We hope these masks help the medical staff," says Joey. 
"The gift of thousands of N95 and surgical masks by Joey Cai and Ling Jin was an incredibly kind and meaningful donation," says Evens. "It came at a critical time when our hospital was in significant need of PPE during the apex of the COVID-19 crisis. In addition, their generosity was especially thoughtful in that it happened during Mrs. Jin's own battle with lymphoma while she was receiving chemotherapy and radiation and also preparing for a stem cell transplant." 
"It was the least we could do," says Cai. "As Americans we must to come together to fight this virus, to get our communities, hospitals, and schools back to normal. Other members of the Chinese-American community at Rutgers have also organized donations and raised money for PPE. It is our hope that other people may be similarly inspired to help the doctors, nurses, and medical staff who work so hard to care for others." 
In early June, Jin finally had her stem cell transplant, performed by Vimal Patel, MD, hematologist/oncologist at Rutgers Cancer Institute. "We've been very unlucky, and very lucky," says Cai. "Unlucky, because Ling was diagnosed during the pandemic. Lucky, because we found Dr. Evens and his wonderful team. Without their skill, professionalism, and encouragement, it's hard to imagine that my wife would even come this far." 
He adds: "She's so brave and strong. She wants to defeat this disease so she can have this time with her family, particularly our lovely daughters. That's her biggest motivation." 
Photo credits: Ning Jeff Yue, PhD, credit Nick Romanenko; Vimal Patel, MD, credit Daniel Della Piazza; Ling Jin and family, credit John O'Boyle