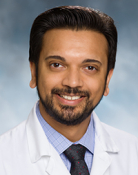 Vimal Patel, MD
Hematologist/Oncologist
Associate Professor of Medicine, Division of Blood Disorders and Section of Hematological Malignancies
I joined Rutgers Cancer Institute of New Jersey in 2012 as a hematologist/oncologist and an Assistant Professor of Medicine at Rutgers Robert Wood Johnson Medical School. 
My education dates back to 1999 when I graduated with highest honors and earned a BA in Molecular Biology and Biochemistry from Rutgers University.  In 2005, I received my medical degree from New Jersey Medical School in Newark, New Jersey. The rest of my training was at Robert Wood Johnson Medical School in New Brunswick, New Jersey, where I completed a residency in internal medicine and a fellowship in the subspecialties of hematology and oncology.
Currently, I work closely with colleagues at the Cancer Institute of New Jersey, including those in the Leukemia/ Lymphoma/ Hematologic Malignancies and Stem Cell Transplantation Programs, to provide patients with a comprehensive evaluation and to educate them about treatment options. I believe this multidisciplinary team approach is crucial for a patient to make an informed decision about potential therapies.
I have a special interest in research that is focused on stem cell transplant and cancer immune therapy.  Many hematologic malignancies become resistant to traditional treatments with chemotherapy and radiation. Such cancers may be definitively treated by harnessing the immune system to target and kill these malignant cells.  Bone marrow transplantation is an example of a potent cellular immune therapy whereby a donor immune system targets a tumor cell. With resources available at our National Cancer Institute-designated comprehensive cancer center, we are able to translate research findings and apply them to patients in an attempt to increase the success of stem cell transplant and to reduce complications such as malignant relapse, infections and graft-versus-host disease (GVHD).
Clinical Expertise
Stem cell transplantation (autologous and allogeneic) and hematologic malignancies such as acute myelogenous leukemia (AML), acute lymphocytic leukemia (ALL), chronic lymphocytic leukemia (CLL), chronic myelogenous leukemia (CML), non-Hodgkin's lymphoma (NHL), Hodgkin's lymphoma, multiple myeloma as well as myelodysplastic syndrome (MDS), blood cancers, myeloproliferative diseases and aplastic anemia.