Story by Mary Ann Littell •  Portraits by John O'Boyle     
When there's a fire, most people run in the opposite direction. But not firefighters. They run towards danger, not away from it. Facing an emergency, they stay calm and carry on, even when they know things might not go their way.
As a career firefighter and fire captain in the city of Newark, Jim Gritschke embraces this take-charge approach. It served him well when he learned he had stage 4 kidney cancer.
Retired from firefighting since 2004, Gritschke lives in Union, New Jersey, with his wife Anna. His routine includes golf with his buddies a few times a week and regular walks with his tiny Shih Tzu. "I'm her man – the one she barks at when she wants to go outside," he says with a laugh. He's also a partner in a small packaging products company, supplying plastic containers to New Jersey's burgeoning food industry. Working about 20 hours a week, he notes, "I'm not one to sit at home all day."
At 70, he's fit and healthy after decades of pulling hoses, carrying heavy equipment and climbing ladders. That's why he was surprised when he started feeling "not so good" in the summer of 2017. It started with a loss of appetite - a new experience for someone who's a gourmet cook and loves to eat. Losing a few pounds a week, he wondered, 'What's going on?'
He'd been under stress, caring for a brother who was seriously ill with lung cancer and handling the estate of an aunt who died. So he went for a checkup. His doctor did tests and found his hemoglobin was low. He had an endoscopy and saw a urologist for a prostate exam. "I was relieved when everything checked out," he says. "We figured my weight loss was from the stress."
In October he and his wife Anna went to a friend's vacation home in the Poconos. After a day of rigorous hiking, he noticed sharp pains in his right leg and thigh. Assuming he'd pulled a muscle, he tried to ignore it. Over the next few weeks, the pain would come and go. At times it was intense. He continued losing weight, too.
He made it through Thanksgiving, but struggled with the pain. After the holiday his wife took him to see an orthopedic surgeon at Saint Barnabas Medical Center, an RWJBarnabas Health facility, where she worked as a coordinator in the Department of Surgery. The physician took X-rays of Gritschke's pelvis and hip and called him the following day. "He saw some lesions in my hip and was concerned - asked me to come back right away for more tests," said Gritschke. "It didn't sound good."
Additional imaging studies showed a large tumor on Gritschke's right kidney. He had a battery of other scans and tests, including a needle biopsy of his pelvic bone. "That's when I found out I had metastatic renal cell carcinoma," he says. "The cancer was in my
pelvis too. Everything happened so fast, we couldn't believe it."
According to the American Cancer Society, 65,000 new cases of renal cell carcinoma were diagnosed in 2018. Often it causes no symptoms until it's in advanced stages, at which point symptoms can appear, like Gritschke had, including bone pain, low hemoglobin, and weight loss.
Still processing his diagnosis, Gritschke met with physicians at Saint Barnabas Medical Center. They suggested that he see urologic oncology surgeon Eric A. Singer, MD, MA, FACS, at Rutgers Cancer Institute of New Jersey, who specializes in treating genitourinary malignancies. RWJBarnabas Health and Rutgers Cancer Institute have a unique partnership, providing cutting-edge therapies for patients with cancer. Being part of this system ensures a seamless transition with cancer care.
Gritschke saw Singer in early December. As director of the cancer center's kidney cancer program, he is an outstanding surgeon with a strong background in clinical research, including a stint at the National Institutes of Health. On top of that, he's trained in bioethics, which he explains is directly related to all that surgeons do: from selecting the optimal therapy for each patient to developing innovations in surgery and designing clinical trials.
"About one in five of our kidney cancer patients have metastatic disease – disease that has spread beyond the kidney – at the time of diagnosis," says Singer, who is also an assistant professor of surgery at Rutgers Robert Wood Johnson Medical School. "Treating them is not 'one size fits all.' It requires an individualized approach."
For Jim Gritschke, who was fit and healthy except for his cancer, Singer proposed an aggressive plan: cytoreductive robotic radical nephrectomy -- removal of the kidney and tumor – followed by radiation and systemic therapy. Explaining his motivation, Singer cited studies showing that carefully selected patients with advanced kidney cancer who have their primary tumor removed, followed by therapy that impacts the entire body (systemic), do better than patients who receive only systemic therapy without surgery.
"Having major surgery isn't easy, but I wanted to explore every option," says Gritschke. "If surgery would help me live longer and have a good quality of life, that's what I wanted."
He adds: "We were impressed by Dr. Singer's dynamic, can-do attitude. He showed us all the data about removing the kidney and said that in his opinion, this was the best approach for me. His goal was to give me longevity and quality of life."
Gritschke's procedure was performed robotically in early January at Robert Wood Johnson University Hospital, an RWJBarnabas Health facility. "Using the robot is like working under a 10x power microscope, enabling us to do very precise, delicate surgery with a few tiny incisions," says Singer. "Robotic procedures provide another huge advantage, enabling patients to recover more quickly so they can start systemic therapy faster."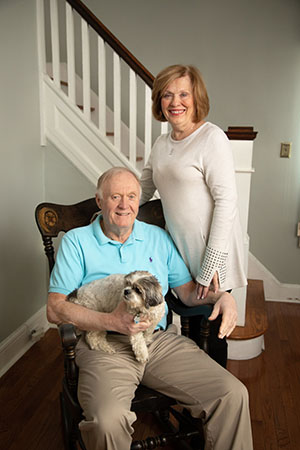 The surgeon makes a compelling case for treatment at an NCI-designated Comprehensive Cancer Center: "We offer the latest technology, from robotic surgery to the most advanced radiation oncology equipment including proton beam therapy. We also have a multi-specialty team in place to provide unique treatment options that offer patients improved outcomes. As a high-volume center, we're very experienced at what we do, and that's what you want when you're facing cancer."
True to his promise, Singer assembled a 'dream team' to provide each facet of Gritschke's care. First in line was radiation oncologist Rahul Parikh, MD, who treated the bone lesions with radiation therapy, alleviating Gritschke's hip pain. 
The final phase of treatment was selecting the best type of systemic therapy. Gritschke was offered the opportunity to take part in a clinical trial through the Big Ten Cancer Research Consortium, a collaborative effort of some of the country's top cancer centers at the Big Ten universities. "Dr. Tina Mayer, my medical oncologist, told me about the trial. She thought we should be proactive, considering my cancer is a stage 4," says Gritschke. "I read up on the clinical trial and it sounded like a good fit." The phase 1b/2 trial combines two immunotherapy medicines designed to help the body fight the kidney cancer.
Gritschke began the clinical trial in March 2018. "So far, so good," he says. "My energy is back. Some days after my injections I even go meet the guys to grab lunch and a round of golf." The response Gritschke has from the clinical trial will help determine his future treatment.
Gritschke has returned to his daily routine, including walks with the dog and cooking his favorite foods: Sunday gravy, shrimp scampi, Chateaubriand. "I learned to cook in the firehouse," he notes. "We traded recipes, collaborated, and helped each other. It was a tight-knit team. Maybe that's why I'm such a big fan of the team approach."
This fall he and his wife traveled to Chicago for the Kidney Cancer Association 2018 Patient Meeting. Singer, one of the speakers at the meeting, thought they would find it worthwhile. Gritschke attended the presentations and was thrilled to be able to hear his own surgeon speak on the topic of cytoreductive nephrectomy. "Dr. Singer presented case studies, and when he started talking about the '70-year-old male,' I knew that was me."
The Gritschkes met other kidney cancer patients at the meeting and were amazed at the stories they heard. "It was eye-opening, all that these patients had been through," he says. "Many people had a much more difficult time than I had. It made me thankful that my own disease was treatable."
He adds, "What I learned from the meeting is that the wave of the future is going to be immunotherapy, the type of therapy I'm having now. It's going to make a huge difference for people with cancer. I feel tremendously lucky that these treatments arrived at the right time for me."