Story by Beth Howard • Portraits by John O'Boyle      View the complete magazine | Subscribe to Cancer Connection
In 2015, Jeffrey Zatta, 65, was diagnosed with chronic lymphocytic leukemia (CLL), a type of cancer of the blood and bone marrow. His doctor told him that his treatment would probably be effective for about four or five years.  Zatta had a monthly infusion of a drug known as a monoclonal antibody called obinutuzumab.   
"He was right on the money," says Zatta, a commercial lender and consultant in Toms River. "For four or five years, I had virtually no problems." 
In the fall of 2019, Zatta's blood work showed that his white blood cell count was dropping dramatically—the cancer was getting worse. "There was a considerable amount of lymphoma in the marrow, which confirmed it," he says. 
Since Zatta was originally diagnosed, new treatments have been developed. His doctor, Chirag Shah, MD, an oncologist at Community Medical Center, an RWJBarnabas Health facility, in Toms River, devised a new treatment plan, which took into account Zatta's other health concerns: a history of kidney cancer, a previous heart attack, high blood pressure and some liver issues. "These problems made treatment more complicated," recalls Dr. Shah. 

Chirag Shah, MD
Through Community Medical Center's partnership with Rutgers Cancer Institute, Zatta and his doctor could have access to the expertise of specialists at Rutgers Cancer Institute, the state's only National Cancer Institute-designated Comprehensive Cancer Center.  Given the distance between New Brunswick and Toms River, Zatta was able to take advantage of the newly established telehealth program in place. 
"When I first was consulted on Mr. Zatta's treatment plan, pre-COVID, providing telehealth for cancer patients in New Jersey was a relatively new initiative. We had started a unique telemedicine second opinion program in 2019 to help New Jersey oncologists and patients with challenging cancer cases. Fast-forward a few months later, telemedicine has become a mainstay of our program for existing cancer patients as well as new patient consults," says Andrew M. Evens, DO, MSc, FACP, associate director for clinical services at Rutgers Cancer Institute and director of the Lymphoma Program there. "We are fortunate to have a multitude of national and international cancer experts at Rutgers Cancer Institute who can provide second or third opinions and leverage their diagnostic and treatment expertise to work collaboratively with local oncologists on challenging cases either in-person or via telehealth." 
There are 80 different types of lymphoma, all of which are very treatable, adds Dr. Evens, who is also the medical director of the RWJBarnabas Health oncology service line. "But, depending on the exact subtype, often including molecular analyses of the lymphoma, the treatment and prognosis can vary quite widely. Having a second opinion allows local oncologists throughout the state of New Jersey and beyond to have a cancer expert analyze the diagnosis and prognosis in great detail in order to provide patients the full spectrum of therapeutic options, including potential clinical trials with newer and innovative targeted treatments."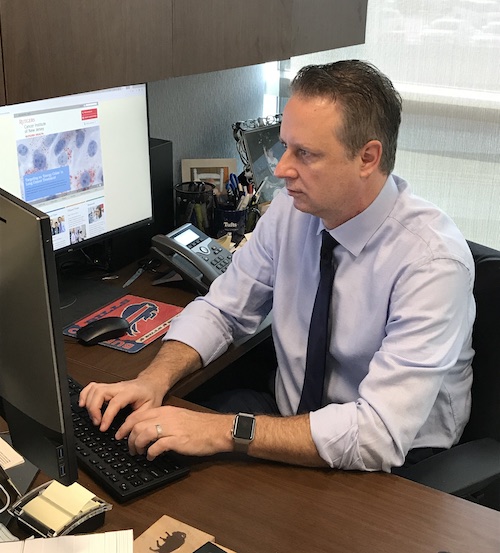 Rutgers Cancer Institute's Andrew M. Evens, DO, MSc, FACP, used telemedicine to connect with Jeffrey Zatta on a shared case with Chirag Shah, MD, at Community Medical Center.
"These are not always straightforward cases," notes Shah. "These are really complicated patients. In one case that we referred to Dr. Evens using the telehealth platform, there are only three reported cases of that kind of lymphoma in the whole world."
Another big plus: Patients have the convenience of having the consult close to home. In January 2020, Zatta, accompanied by his daughter, met at Community Medical Center. They were escorted to a room where a large TV monitor had been set up. Then Evens, who was in his office in New Brunswick, appeared on the screen and they talked for about an hour. 
"You basically feel like you're sitting in his office," shares Zatta. "Dr. Evens had reviewed about 10 years' worth of my records. And you could tell that he was there for me for as long as I needed him."  
Evens recommended the same treatment that Shah had with only a few minor adjustments. "Dr. Evens is like the number one guy anywhere for my type of cancer," says Zatta. "And the fact that my doctor and he were almost word for word on the same page gave me a really great sense of comfort. You know you're getting the right treatment."
Zatta has started his new regimen. He'll continue on obinutuzumab but also is taking an oral drug called venetoclax for two years. "It doesn't cure the cancer, but it kicks it down the road as much as 10 years," says Zatta. Already, his white blood cell count has improved. Shah and Evens will stay in contact in case changes to Zatta's treatment are needed.
Like some CLL patients, Zatta has been lucky that he hasn't been plagued by symptoms or drug side effects. "I always feel good," he says. "I used to leave my infusion and go to the gym. I still do."  
His only real complaint about his illness is the time it consumes going to doctor visits. "You have to take it seriously even though you feel fine," he says. "You can't miss appointments. But between my oncologist, my dentist, my eye doctor and getting blood work every week, I'll probably have over 100 medical appointments this year."
That's why he's glad his virtual oncology consult was easy and convenient. "He really appreciated not having to travel," says Shah. "And it allowed his daughter to sit in without missing a day of work."  
"It really made a difference," says Zatta.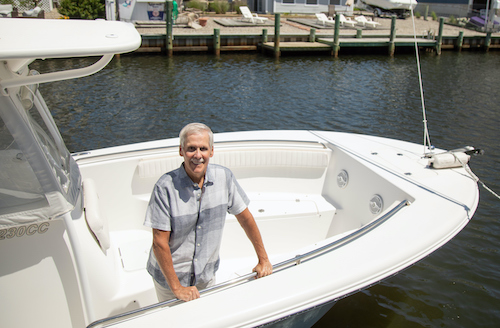 Jeffrey Zatta (above) hasn't been plagued by symptoms or drug side effects. "I always feel good," he says. His only real complaint about his illness is the time it consumes going to doctor visits. Rutgers Cancer Institute's telehealth initiative gave him the convenience of having a virtual oncology consult with an expert, and the confidence that he was getting the right treatment, close to home.
Photo of Dr. Shah Courtesy of RWJBarnabas Health