Story by Mary Ann Littell • Portraits by John O'Boyle        View the complete magazine | Subscribe to Cancer Connection
Hall of Fame basketball coach Phil Jackson has said, "The strength of the team is each individual member. The strength of each member is the team." In that same spirit, it can also be said that it takes the teamwork of an entire academic health care campus to help an individual with a complex life-threatening cancer. Just ask Paul Munier.
At 58, he had a long career at the Port Authority, where he specialized in repairing and maintaining heavy snow removal equipment, from snowplows to salting and sanding trucks. Now happily retired, he enjoys fishing, the occasional round of golf, and relaxing with his wife Connie. The couple have two grown children and live in Lakewood, New Jersey.
Munier's life changed a year ago when he was diagnosed with advanced renal cell carcinoma. This cancer devastated not only his left kidney, but also his vascular system. Taking the lead in providing his care was urologic oncologist Eric A. Singer, MD, MA, MS, FACS, at Rutgers Cancer Institute of New Jersey. Dr. Singer orchestrated a 'thrombus team' of surgeons and other specialists at Robert Wood Johnson University Hospital (RWJUH) and Rutgers Robert Wood Johnson Medical School, who worked together to resect Munier's renal cell cancer and restore his vascular function.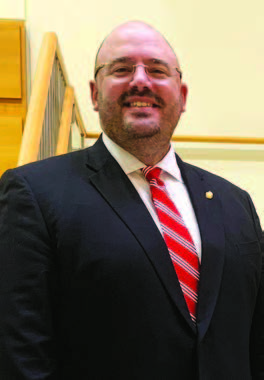 A highly skilled team was put in place to help Paul Munier. "This was a a fantastic team effort. . . . That's a benefit of coming to a strong health system like ours, with access to experts and collaboration across all the specialties," says urologic oncologist Eric A. Singer, MD, MA, MS, FACS (above) who took the lead in providing Munier's care.
Every physician has a litany of rare and difficult cases. "Oh, he's definitely at the top of my list. He was one of the sickest, if not the sickest patient we've taken to surgery," says Singer, who is associate chief of urology and urologic oncology and director of the Kidney Cancer Program, and an associate professor of surgery and radiology at Rutgers Robert Wood Johnson Medical School (RWJMS).
"Just about every department in the hospital was involved in his care," Singer continues, ticking off on his fingers: "Urologic oncology, surgical oncology, vascular surgery, cardiac surgery, cardiac anesthesiology, nephrology, gastroenterology, radiology, psychiatry, critical care and medical/surgical nursing, critical care surgery (surgical ICU), nutrition, physical therapy, social work, transport. That's a long list and I'm probably leaving someone out. We put a highly skilled team in place and were able to help him. This really was a team process and a team win." 
Munier's cancer journey began a year ago, when he began feeling weak and fatigued. His symptoms grew worse and he developed severe back pain. He went to a local hospital, where the emergency room staff ran tests and sent him home with the suggestion that he see a urologist.
"A few days later, I stood up and my right leg buckled and gave out on me," recalls Munier. "It felt totally numb. I couldn't walk." He went back to the hospital and this time was admitted.
Scans indicated a large mass on Munier's kidney. "They were pretty sure it was cancer," says Munier. "The scans showed that my legs were filled with blood clots, and they were causing terrible pain. The doctors said the treatment I needed was beyond their capability, and I should go to a specialized cancer center."
As Munier's family frantically searched on their cellphones for kidney cancer specialists, a name kept coming up: Dr. Eric Singer at Rutgers Cancer Institute. "He had expertise in renal cell carcinoma," says Connie Munier. "We called his office and were thankful when they said yes, Dr. Singer can see him." 
Munier would have to be moved by ambulance to RWJUH, arranged by the hospital.
Singer saw Munier the morning of his arrival. "He had so many things going on," recalls Singer. "He had a large mass on his left kidney that had spread along the left renal vein all the way to the inferior vena cava (IVC), the large vein that carries blood from the lower body to the heart, resulting in a tumor thrombus. The right renal vein was also blocked by the tumor thrombus so his right kidney wasn't working either, resulting in renal failure and the need for hemodialysis. He also had an ileus, or intestinal slowdown, and was malnourished." A kidney biopsy confirmed that the tumor was renal cell carcinoma.
About 10 percent of renal cell carcinoma patients develop tumor thrombus. The thrombus must be removed to eliminate the cancer, but this surgery can be dangerous, with a high risk of bleeding and other complications. "We do a lot of this work, but his case was one of the most challenging I've seen," says Singer. "I've never had a patient whose tumor thrombus was causing renal failure."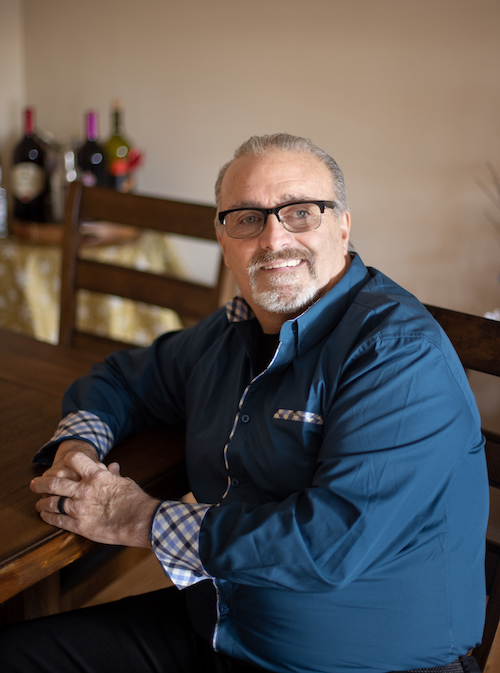 Paul Munier is doing well now. He's on his way back to his normal weight and energy level. "I want to keep progressing," he says.
Munier had also developed bland thrombus—non-malignant blood clots just below the level of the renal vein, extending into his lower legs. The blockage in his veins severely compromised blood flow. Before Singer could treat the cancer, Munier needed emergency vascular surgery, or he would lose his left leg.
Singer reached out to Saum Rahimi, MD, FACS, Norman and Ruth Rosenberg Chair and chief of the Division of Vascular Surgery at RWJMS. "The patient had developed phlegmasia in the left leg, which is a severe form of deep vein thrombosis (DVT)," explains Dr. Rahimi. "Since he just had a kidney biopsy, we could not give him the standard medication to dissolve the DVT, due to the bleeding risk. We performed an open left leg venous thrombectomy and fasciotomy, which is a rare procedure for a patient with DVT." This alleviated the pressure and allowed for the return of blood flow, saving the limb.
Recovering in the ICU, Munier would need more surgery to address his cancer. "He was very weak," says Singer. "Our first priority was getting him stabilized and optimized for surgery. We provided nutritional support and did further scans to determine the extent of the cancer."
Fortunately for Munier, he had come to the right place. The multidisciplinary thrombus team with experts from Rutgers Cancer Institute, RWJUH and RWJMS is highly skilled in treating all aspects of renal cell carcinoma, including complex vascular reconstruction. The surgical process is meticulously planned and choreographed, step by step. "Due to the extent of his tumor thrombus and bland thrombus, cardiac bypass might be needed during the resection, so we had Dr. Hiro Ikegami of cardiac surgery and a perfusion team ready if needed," says Singer. "Thankfully we didn't have to do that."
Singer's bioethics training also came in handy during the extensive informed consent process as he discussed 'best-case, worst-case' scenarios, making sure the Muniers fully understood the treatment options available and the implications of surgery.
"The decision was ours to make," says Connie. "Without surgery, Paul would not survive. But the surgery was major and had risks. While Dr. Singer felt there was a good chance of a successful outcome, Paul might not make it."
She adds: "For us, there was no choice. He'd been a thriving 58-year-old. There was no way we were just going to give up."
In the weeks before the surgery, another crisis loomed: COVID-19. Singer had many conversations with Keith Lewis, MD, and Geza Kiss, MD, chair and vice chair of anesthesiology at RWJMS and anesthesiology leaders at RWJUH. COVID-19 was factored into the plan, and the anesthesia team would work tirelessly to ensure that all the necessary operating room resources would be made available.
On February 21, 2020, Munier underwent a radical nephrectomy with removal of IVC tumor thrombus. Singer notes, "For this procedure we needed the services of many different people who are exceptionally skilled at what they do."
Among them were Rutgers Cancer Institute chief surgical officer H. Richard Alexander, Jr., MD, FACS, and surgical oncologist Miral Grandhi, MD, FACS. "We worked together, mobilizing the liver to expose and obtain control of the inferior vena cava below the hepatic veins," explains Dr. Grandhi. Rahimi performed the IVC thrombectomy, clearing out the blood clots. Singer resected the kidney and Grandhi removed the spleen.
"ICU nurse Chris Paine went above and beyond for us. He came out every two hours to give us updates," says Connie. "He said throughout the case there were 31 people in the operating room, and 38 units of blood were given to Paul."
Munier came through the surgery well and remained in the hospital for several weeks. He says recovery was "slow and difficult." He was in pain and still on dialysis, as the right kidney had not regained function.
COVID-19's full force hit in early March, and the hospital rules changed. "Connie couldn't visit," Munier says soberly. "That was hard, being without my family, my lifeline. I'll admit, I got depressed." A psychiatric team was brought in. "They were a great help. They talked to me, gave me medication. I prayed that I'd heal, and God answered my prayers."
Munier adds, "The nurses were phenomenal as well: caring and diligent. We cannot say enough about them. They were a crucial part of the vast team that helped me in my recovery."
In March, Munier was discharged to a rehab facility, where his physical therapy was limited by COVID-19 restrictions. Unable to use the gym or even leave his room, the therapy sessions were short and progress was frustratingly slow. He still couldn't stand up or walk on his own.
Making matters worse, in early April he was diagnosed with COVID-19. Asymptomatic, he was moved to a floor for COVID-19 patients. Connie couldn't visit, so she'd wait for him in the rehab parking lot as he was transported to his dialysis treatments.
Feeling isolated, he wasn't eating. His weight had dropped to 150 pounds, from a high of 246.
Connie took matters into her own hands. The word indomitable doesn't even begin to describe her, at least where her husband is concerned. "I told Dr. Singer we'd had enough of rehab," she says. "I wanted to take Paul home. He wasn't doing well. Dr. Singer said if I could handle it, Paul could come home." All the parties involved in Munier's care agreed that this would be best. 
That was the turning point in Munier's rehabilitation. The family brought in a physical therapist and within a week, Munier was walking around the house. Two weeks later, he climbed the stairs. "The road to recovery was in my own house," he says with a smile. "Family recovery is the best."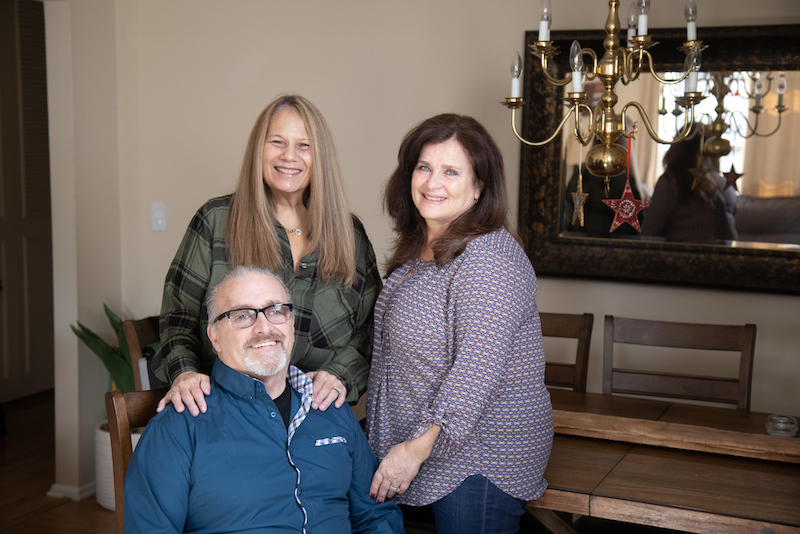 Paul Munier with his wife Connie (left) and sister Tisha.
Munier is doing well now. His right kidney regained function and he's off dialysis. He's on his way to his normal weight and energy level. Every day he walks the dog around the block and chats with the neighbors, face masks in place. "I never thought I'd walk again, but here I am. I still go to physical therapy three times a week. It's a good routine and I want to keep progressing."
Munier has regular telemedicine visits with Singer, and for now, needs no further treatment. Singer is beyond pleased with his patient's recovery. "I'll say again that this was a fantastic team effort," he says. "That's a benefit of coming to a strong health system like ours, with access to experts and collaboration across all the specialties."
Singer adds, "Yes, we helped him, but Connie really saved his life. She brought in that home care and he really blossomed." 
Clearly, the feelings of admiration are mutual. "Dr. Singer was the strength and the heart behind us," says Connie. "I wanted the best of the best for my husband, and we got that and much more."