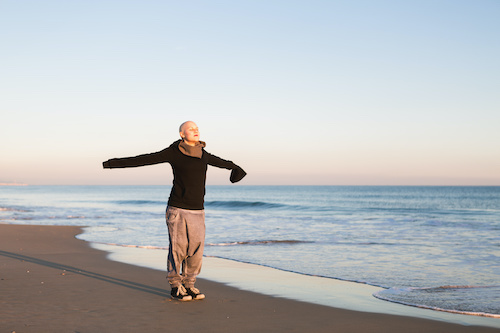 Credit: Adobe Stock / photopitu
New Brunswick, N.J., March 25, 2021 – The end of cancer treatment signals the beginning of a new journey: survivorship. Navigating life after cancer may seem daunting. When treatment ends, physical and emotional changes brought on by cancer or treatment may linger. You may want life to return to normal, but you may not know where to begin. There are many things you can do to enhance your physical and emotional health as you move forward. Start by following these steps to develop a follow up care plan that works for you.
Keep up with follow up medical care

Once you have finished your cancer treatment, you may be uncertain about how to navigate your regular medical care. Start by asking your oncologist who to schedule follow up appointments with, and for how many months or years. Ask if and when your care should be turned over to your primary care physician. The frequency of visits to your doctor depends on the type of cancer and type of treatment you had, along with your overall health. Your doctor will likely review your medical history, give a physical exam, look for side effects from treatment and may run follow up tests or suggest appropriate cancer screenings in the future. Don't be afraid to ask questions and communicate with your doctors about your personal needs.
Resume healthy activities that enhance your well-being.

During cancer treatment, you may have taken a leave from work, or put a pause on engaging in your favorite hobbies or activities to focus on your health. As a cancer survivor, you have the opportunity to start a new routine or expand your horizons by trying something new. You might want to consider getting back to work if you are able, or finding new hobbies to enhance your physical and emotional health such as yoga, meditation, cooking healthy meals, gardening, painting or engaging in moderate exercise, which also might help boost your self-esteem.  
Seek help for emotional support.

Some survivors need help adjusting to strong emotions after they complete cancer treatment. Some survivors begin to worry about the unknowns of the future. Feelings of worry, sorrow, confusion, or anger are normal and it may take time to adjust to life as a survivor. You might want to consider joining a support group with other cancer survivors where you can hear from others going through a similar experience, or seeing a mental health professional who can help you come up with ways to deal with your feelings. Family members, friends, and caregivers are also part of survivorship, and you may want to talk to them about how you feel if you are comfortable.

Life after cancer treatment might seem scary and overwhelming, but you are not alone. For more detailed information about planning life after cancer, visit: https://www.cinj.org/patient-care/life-after-cancer-treatment

To help survivors and their unique needs, Rutgers Cancer Institute of New Jersey's Center for Cancer Survivorship provides a focal point through which all survivor care and research is coordinated. Learn more by visiting: https://www.cinj.org/survivorship
Sandra Bruno MSW, LCSW is a licensed clinical social worker at Rutgers Cancer Institute of New Jersey.
For journalists – contact:
Krista Didzbalis 
Media Relations Assistant 
908-812-6114
krista.didzbalis@rutgers.edu
For patient appointments/inquiries – contact:
844-CANCERNJ (844-226-2376)