Home | Personnel | Services | Equipment | Sample Preparation | iLab Service Request
SHARED RESOURCE EQUIPMENT AND INSTRUMENTATION
The Immune Monitoring Shared Resource maintains a wide array of cutting-edge instrumentation to facilitate the assays and analysis we perform for the Rutgers University clinical and research communities. If you have questions about a specific instrument below with regard to designing an experiment, please contact Ankit Saxena, PhD, Managing Director, at as4075@cinj.rutgers.edu.
SAMPLE PREPARATION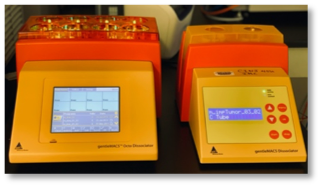 The Immune Monitoring Shared Resource utilizes the Mitlenyi GentleMACS Tissue Dissociators for the isolation of single cells from tissue and tumor samples.  These units utilize standardized protocols for the dissociation of a number of tissue types, combining enzymatic and mechanical disruption of the sample. 
More Information: Miltenyi GentleMACS
FLOW CYTOMETRY
The Cytek Aurora Spectral Flow Cytometer is outfitted with 4 lasers (ultraviolet, violet, blue, and red), allowing for 54 channels and detection of 30+ fluorophores per experiment.  The proprietary high-sensitivity Coarse Wavelength Division Multiplexing (CWDM) semiconductor detector arrays allow for more efficient spectrum captures.  The unit features exceptional small particle detection by using violet laser scatter, narrow beam height, and a flat top laser design.  The instrument is equipped with a plate loader, allowing for high-throughput analysis of samples from a 96-well plate.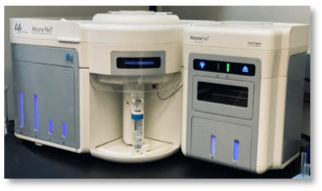 The ThermoFisher Attune Nxt is equipped with 4 lasers (violet, blue, yellow, and red) and can analyze 14 fluorophores in a single experiment.  The acoustic assisted hydrodynamic focusing allows for fast and efficient interrogation of samples, while the ability to run low volume flow rates and reserve/rerun individual samples that have been analyzed ensures little to no loss of low-volume or clinical samples.  The instrument is also attached to a 96-well plate reader for high-throughput sample analysis.
More Information: Cytek Aurora, Attune Nxt
SERUM CYTOKINE ANALYSIS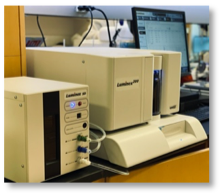 Serum cytokine analysis in the facility is performed on the Luminex 200 Platform.  This instrument is capable of performing multiplex analysis of up to 100 analytes in as little as 50 microliters of serum or cell culture supernatant.  The typical dynamic range for each analyte is greater than or equal to 3.5 logs, for extremely sensitive and reproducible interrogation.
More Information: Luminex 200
GENOMIC AND GENE EXPRESSION ANALYSIS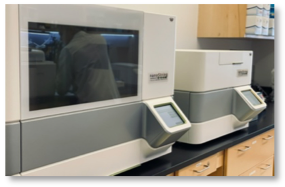 Targeted gene expression analysis is performed using a NanoString nCounter Max System.  Combining an automated prep station and digital analyzer unit, this system can perform multiplex analysis on up to 800 RNA, DNA, or protein targets in up to 12 samples per run.  The nCounter instruments provide a simple and cost-effective approach that can be used with a variety of sample types, including FFPE-processed tissue.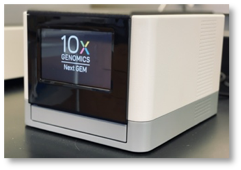 For single-cell gene expression, the Immune Monitoring and Advanced Genomics Shared Resource provides assays on the 10X Genomics Chromium Controller.  The Chromium controller uses advanced microfluidics to process up to 8 samples into single-cell gel emulsions ready for RNA barcoding and cDNA amplification.  The trained technical staff in the Shared Resource create both general and targeted gene expression libraries from this amplified, barcoded cDNA for downstream sequencing and analysis. 
More Information: NanoString nCounter Max, 10X Genomics Chromium Controller
RNA / DNA / PROTEIN ANALYSIS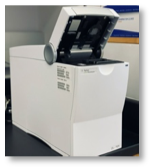 The 2100 Bioanalyzer System provides automated electrophoresis for quality control of biomolecules.  Using a chip-based assay, it can perform RNA, DNA, and protein analysis.  Compared to traditional electrophoresis, this system allows for lower sample input (1 microliter for Nucleic Acids, 4 microliters for protein), and significantly faster analysis times.  Output from the instrument includes assessment of sizing, quantitation, integrity, and purity of RNA, DNA, and proteins.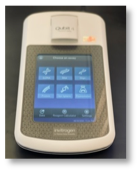 The Invitrogen Qubit 4 Fluorometer utilizes assays based upon dyes that bind selectively to DNA, RNA, or protein, making it more specific than UV-absorbance based assays.  With increased sensitivity, it can reliably detect as little as 10 picrograms/microliter of DNA.  It easily measures integrity and quality and quantifies each sample in under 3 seconds. 
More Information: Agilent 2100 Bioanalyzer, Invitrogen Qubit 4 Fluorometer