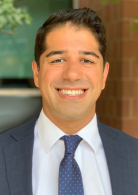 Saum Ghodoussipour, MD
Urologic Oncologist
Director, Bladder and Urothelial Cancer Program, Rutgers Cancer Institute of New Jersey
Assistant Professor of Surgery, Rutgers Robert Wood Johnson Medical School
I am a urologic surgeon focusing on the treatment of men and women with cancers of the genitourinary system. This includes cancers of the bladder, kidney, testis, prostate, penis, urethra and adrenal glands. 
I obtained my undergraduate degree in biology at Boston University and my medical degree at the Temple University School of Medicine in Philadelphia, PA. I then completed an internship in general surgery and urology residency at the University of Southern California (USC) and Los Angeles County Medical Center. This was followed by a 2-year fellowship in surgical urologic oncology at the USC Institute of Urology and Norris Comprehensive Cancer Center in Los Angeles, CA. I am now proud to care for patients while working to advance the field of medicine through research at New Jersey's only National Cancer Institute-designated Comprehensive Cancer Center. 
My clinical areas of expertise include complex open and robotic surgeries of the pelvis and retroperitoneum. This includes removal of the bladder (radical cystectomy) with reconstruction of the urinary tract to maximize functional recovery, nerve-sparing procedures to maintain sexual function and fertility, advanced vascular techniques for invasive tumors and open extraperitoneal procedures to hasten recovery. 
My background growing up in the Twin Cities of Minnesota, coupled with my diverse training has exposed me to patients and families from all walks of life. I appreciate that cancer care is not "one size fits all" and I am committed to facilitate treatment decisions for patients before and after surgery. My research supports this commitment through enrollment of patients in clinical trials to develop novel therapeutics, studies of surgical technique to optimize cancer control and functional outcomes, and implementation of preoperative and postoperative care pathways to enhance recovery after surgery. 
I am active in my field through membership in professional societies such as the American Urological Association and the Society of Urologic Oncology. I also serve on editorial boards and as an ad-hoc reviewer for numerous urologic and surgical journals. I have published my research in peer-reviewed journals, authored book chapters and other educational materials and regularly present at national and international meetings. As an Assistant Professor of Surgery at Rutgers Robert Wood Johnson Medical School, I am passionate about training the next generation. 
Clinical Expertise
Non-muscle invasive bladder cancer, transurethral resection, intravesical therapy, muscle-invasive bladder cancer, radical cystectomy, salvage cystectomy, nerve-sparing cystectomy, female reproductive organ sparing cystectomy, urinary diversion, orthotopic neobladder, continent cutaneous diversion, ileal conduit, urothelial carcinoma, upper tract urothelial carcinoma, nephroureterectomy, ureteroscopy, kidney cancer, renal cell carcinoma, radical nephrectomy, partial nephrectomy, cytoreductive nephrectomy, tumor thrombectomy, testicular cancer, germ cell tumor, radical orchiectomy, partial orchiectomy, primary, post-chemotherapy and nerve-sparing retroperitoneal lymph node dissection, vascular resection, retroperitoneal sarcoma, prostate cancer, radical prostatectomy, salvage prostatectomy, pelvic lymph node dissection, partial and total penectomy, urethrectomy, inguinal lymph node dissection, adrenal tumors, adrenocortical carcinoma, pheochromocytoma, adrenalectomy, clinical trials, minimally invasive surgery, laparoscopy, robotic surgery, extraperitoneal surgery