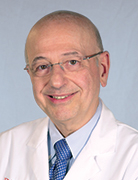 Soly Baredes, MD
Professor and Chair, Department of Otolaryngology-Head and Neck Surgery
Head and Neck Surgeon
University Hospital Newark
As Professor, Chairman, and Director of Head and Neck Surgery at Rutgers New Jersey Medical School, I am dedicated to helping patients with head and neck cancers. Our program at the Rutgers Cancer Institute of New Jersey at University Hospital is a multidisciplinary effort involving surgeons, radiation oncologists, medical oncologists, dental professionals, imaging specialists, pathologists, advanced practice nurses, and speech and language pathologists. The surgical team is experienced in complex surgeries to remove tumors, state-of-the-art reconstructive techniques, and minimally invasive robotic and endoscopic skull base surgery. The head and neck cancer team strives to achieve treatment of tumors while maintaining maximal quality of life for patients.
Beyond treating patients, my passions include medical education and clinical research. For almost two decades I was the program director for the only residency training program for physicians in Otolaryngology-Head and Neck Surgery in New Jersey, and continue to actively teach. I have participated in multiple research presentations at national meetings and have co-authored more than 200 peer-reviewed articles and chapters. I have held leadership positions in local and national organizations and am the recipient of honors, including the Edmund Prince Fowler Award of the Triological Society, the Certificate of Honor of the American Academy of Otolaryngology-Head and Neck Surgery, and Faculty Inductee of the Alpha Omega Alpha Honor Medical Society, New Jersey Medical School.
After completing my medical education and residency at Columbia University, and my fellowship in head and neck surgery at Beth Israel Hospital in New York, I joined the faculty at Columbia. I came to Rutgers New Jersey Medical School in 1988 to continue my work in head and neck surgery.
Clinical Expertise
Head and neck malignant and benign tumors, tonsil and other throat cancers, robotic surgery, voice and swallowing disorders
Contact Information
For appointments at University Hospital in Newark or at the Barnabas Ambulatory Care Center in Livingston call 973-972-2548.
For all other inquiries call 732-235-2465.