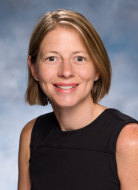 Tina Mayer, MD
Medical Oncologist
Associate Professor, Rutgers Robert Wood Johnson Medical School
I came to Rutgers Cancer Institute of New Jersey in 2009, having completed an oncology fellowship at Yale School of Medicine, which was preceded by a residency at Tufts Medical Center and a medical school education at Cornell University.  
My practice focuses on cancers of the genitourinary system (prostate, bladder, testis and kidney). Within these areas of specialty, I provide patients with a comprehensive evaluation and help educate them about their disease so that they can make informed decisions about their treatment options. This is done collaboratively at the Cancer Institute with experts across multi-disciplines in the Urologic Oncology Program including radiation and surgical oncologists, nurses, social workers, nutritionists and other experts who are all part of the team.
I am involved in conducting clinical trials within my areas of specialty and excited to be a part of a team that offers some of the newest available therapies to battle cancer.
In addition to the above, I serve as associate program director for the Hematology-Oncology Fellowship program, which enables me to help train and educate the next generation of medical students, residents and medical oncologists.
I feel very fortunate to have a position in which I can make a meaningful impact on the lives of my patients as well as the education of those training for a career in medicine. 
Clinical Expertise
Prostate cancer, kidney cancer, bladder cancer, testis cancer, and penile cancer