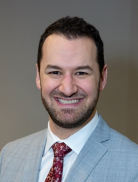 Evan Kovac, MD
Dr. Kovac is a board-certified and fellowship-trained urologic oncologist, specializing in the evaluation and treatment of cancers of the urinary tract, including prostate, kidney, bladder, testicular, adrenal, and penile cancers. Dr. Kovac earned his medical degree at McGill University in Montreal, Canada. He also completed his residency in urology at McGill. He then continued his training and completed a two-year fellowship in Urologic Oncology and Robotics at the renowned Cleveland Clinic in Cleveland, Ohio.
Dr. Kovac is experienced in the latest diagnostic modalities and has specific expertise in MRI-ultrasound-fusion biopsy for the diagnosis of prostate cancer. His surgical proficiency is broad, and he is highly skilled in open, endoscopic, and robotic techniques for the treatment of genitourinary cancers.
He has authored more than 30 peer-reviewed publications and book chapters on urologic oncology, has presented over 25 abstracts at national and international meetings, and is a leader in the optimization of prostate-specific antigen (PSA) screening for the early detection of prostate cancer. In addition, he published an online training module for performing retroperitoneal lymph node dissection for the treatment of metastatic testicular cancer that is accessible to surgical trainees worldwide.
Prior to joining Rutgers, Dr. Kovac practiced in New York at Montefiore Medical Center and was an Assistant Professor at the Albert Einstein College of Medicine. While at Montefiore, Dr. Kovac led a collaboration with primary care physicians to create a novel prostate cancer screening decision aid designed specifically for multi-ethnic, underserved communities. He also led the establishment of a first-of-its-kind prostate cancer center in the Bronx.
Dr. Kovac's responsibilities include expanding clinical and research programs at Rutgers, such as clinical trial development/participation and increasing prostate cancer and PSA screening awareness, especially among our high-risk, minority population.
 
Clinical Expertise
Surgical Techniques: Robotic surgery, laparoscopic surgery, endoscopy; prostate cancer; MRI-Ultrasound fusion biopsy; active surveillance; genomics; robotic prostatectomy; benign prostatic hyperplasia (BPH); bladder cancer; transurethral removal of bladder tumor; robotic and open radical cystectomy (removal of urinary bladder); urinary diversion; kidney cancer; robotic partial nephrectomy (partial removal of kidney); robotic, laparoscopic, and open radical nephrectomy (complete removal of kidney); testicular cancer; radical orchiectomy (removal of testicle); retroperitoneal lymph node dissection; adrenal cancer; benign diseases of the adrenal gland; robotic adrenalectomy; penile cancer
Contact Information
For appointments at Rutgers Cancer Institute of New Jersey at University Hospital, please call 973-972-5108.
For all other inquiries call 732-235-2465.