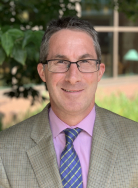 Adam C. Berger, MD, FACS
Chief, Melanoma and Soft Tissue Surgical Oncology
Associate Director for Shared Resources
As Chief of Melanoma for the multidisciplinary Melanoma and Soft Tissue Surgical Oncology Program at the Rutgers Cancer Institute of New Jersey and Professor of Surgery at Rutgers Robert Wood Johnson Medical School, I work closely with my colleagues to provide the most advanced treatment options including immunotherapy, precision medicine, clinical trials, and complex surgical procedures. I have been in practice as a surgical oncologist for the past 15 years with a specialty in melanoma and other complex cutaneous oncological malignancies such as Merkel Cell carcinoma, locally advanced basal cell and squamous cell carcinomas, and eccrine carcinoma. As a surgical oncologist, I know the importance of the multidisciplinary care of patients with skin cancers and soft tissue sarcomas.
Prior to arriving at Rutgers, I was the Chief of the Section of Surgical Oncology at Thomas Jefferson University in Philadelphia from 2004 to July of 2019 where my clinical practice consisted primarily of patients with melanoma and breast cancer. I was voted a Top Doc in Philadelphia for the past four years.
In addition to a passion for taking care of patients with cutaneous and soft tissue oncologic issues, I have a passion for clinical research. I have been very active in both clinical outcomes research as well as an investigator for numerous cancer clinical trials including adjuvant immunotherapy and vaccine trials for patients with advanced stage melanoma. I have been a co-investigator for several national, multi-center clinical trials in melanoma, breast cancer, and GI malignancies. I am a member of the Melanoma and Surgery Committees of the Eastern Cooperative Oncology Group (ECOG), one of the large, national cooperative groups which run multi-institution cancer clinical trials.
I received my undergraduate education at The University of Chicago with an Honors degree in History, Philosophy and Social Studies of Science and Medicine. I went on to Medical School at New York University and completed my General Surgery Residency at the University of Maryland. During my residency, I completed my Surgical Oncology Fellowship at the Fox Chase Cancer Center in 2004. During my residency, I spent two years as a Clinical and Research Fellow in the Surgery Branch of the National Cancer Institute.  It was while at the NCI that I met two of my most important mentors and current colleagues in Surgical Oncology—Drs. Richard Alexander and Steven Libutti. 
This is an exciting time in the treatment of patients with melanoma and soft tissue sarcoma because there are so many new therapies available for patients with both metastatic and earlier stage disease. More than ever, we are now able to target therapies in a more personalized manner to better treat these two diseases and improve outcomes.
Clinical Expertise
Melanoma, soft tissue sarcoma, Merkel Cell carcinoma, skin cancer, clinical trials, outcomes research, and immunotherapy